Basin Head beach was our first favourite place on Prince Edward Island. Clearly, lots of other people agree with us: Basin Head was recently named by Chatelaine as one of Canada's Best Beaches. One of the main reasons I chose our current cottage is because it's perfectly situated on the same coastal area as Basin Head, just outside of Souris.
Yesterday, we went on a free Eco-Tour (yes, FREE!) of Basin Head, courtesy of the PEI Wildlife Federation, and it made us fall in love with our old favourite all over again. If you get a chance to attend one of these tours, I highly recommend it!
We started off at the Basin Head Fisheries Museum and learned some local history about the Mi'kmaq who lived here for 2,000 years, then the French, British, Scottish and Irish settlers who came in the 1700s and 1800s. We learned a little bit about the history of the fishing industry, and then about some of the reasons why Basin Head is a provincially and federally protected area, including a strain of Irish Moss that doesn't grow anywhere else in the world.
Then we moved to the beach. Oh how I love this beach!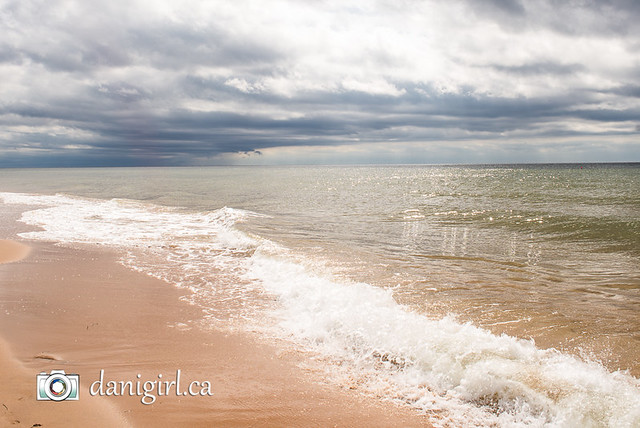 But seriously, it's 10 am on a perfect July day in mid-tourism season and there is NOBODY except us on the beach. How is that even possible? We had the crashing waves and the quirky singing sands (to me, they sound more like a seal bark than a song!) all to ourselves.
Have you been to Basin Head? Did you know that on the other side of the dunes is a stunning meadow full of moss and lichens that looks like an Alpine meadow and will take your breath away?
These pictures do not even come close to doing it justice. There are four kinds of moss growing, the only one of which I remember is Reindeer moss. (Ha, wonder why I remembered that one?) But you have to be careful where you step, because you will kill the moss if you walk on it, and you also need to step carefully around the tall fronds of Marram grass that help anchor the dunes and keep the sand from eroding away.
The boys may have found the first part of the tour a little heavy on the talking, even if they did seem to be mostly paying attention and engaged with the tour (they were the youngest participants by far in our group.) But Lucas especially loved the next part of the tour when we moved to the river and the tour guides dragged a net for a few meters to bring some of the sea life up close for us to interact with.
I was astonished by the sheer number of critters and creatures they caught in the net. Rock crabs, Green crabs, a hermit crab, sand shrimp, flounder, hake, and a whole bunch of others that I'll never remember. Only the kids seemed to be particularly interested in getting up close and getting their hands wet!
One fish in particular they seemed pleased to have caught: a pipe fish is a relative of the seahorse (it looks like a straightened-out version) and like the seahorse, the male tends to the babies until they hatch. Lucas held the flounder and the pipe fish, as well as a few others, but declined the crab angrily waving his claws.
This is how you create a marine biologist or an environmental scientists, right here. What a great morning out!
This sealed the deal for me. Basin Head is my forever favourite beach!